A Private China Tour – Beijing, Yangtze River Cruise, Xian, Jiuzhaigou Scenic Area, Chengdu, Shanghai
17 Days / 15 Nights – Tour Code (CYE)
Private Tour – Departs Monday & Friday*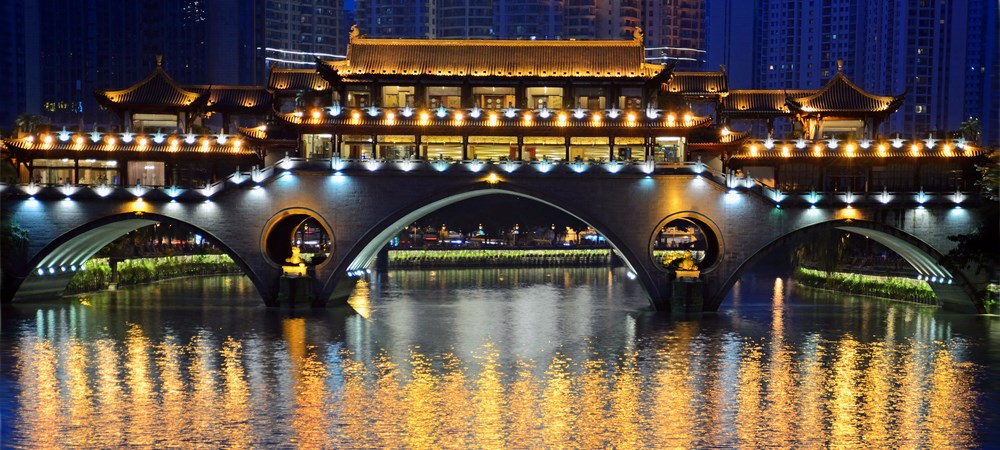 Our Yangtze & The Pandas Explorient tour boasts several of China's most remarkable scenic regions featuring the spectacular Jiuzhaigou Valley and the mighty Yangtze River's famed Three Gorges.
Starting with Beijing, travelers have the opportunity to step foot upon some of the most remarkable sights known to mankind. Visit the ancient and present-day capital's revered landmarks such as the Forbidden City, the imperial palace for the Ming and Qing dynasties; Summer Palace, a grand imperial palace and a royal garden of the Qing Dynasty; Tian'anmen Square, the largest city square in the world; Temple of Heaven, the largest temple compound and one of the most strictly protected cultural heritages of China formerly privy only to the great Emperor himself; Beijing's Old Quarters (Hutongs), showcasing the capital's modest homes and traditional way-of-life accented by chic sidewalk cafes and quaint art galleries; and of course, the magnificent Great Wall of China, the symbol of Ancient Chinese civilization built two millenniums ago.
Next, embark on a fantastic river journey on board one of Yangtze's newest and most luxurious floating hotels for an unforgettable cruise along China's longest and most revered waterway. Cruising in style, passengers are rewarded with amazing sights of the mighty Yangtze including the impressive Three Gorges, the cultural inspiring Shennong Stream and the massive Three Gorges Dam, China's largest construction project since the Great Wall. After four days of indulgence and relaxation, we continue our scenic journey to Sichuan Province on a road less traveled to the Jiuzhaigou scenic region. Awarded a World Natural Heritage Site and a World Biosphere Reserve by UNESCO in 1992, Jiuzhaigou is a heaven of natural wonders boasting an arsenal of spectacular waterfalls, colorful alpine lakes, deep valleys and breathtaking snow-capped mountains that wows even the most seasoned traveler.
After seven memorable days of scenic beauty, we return to civilization and touch down on Sichuan's Capital of Chengdu. In addition to being renowned for its beloved Giant Pandas, Chengdu charms the visitor with its laid-back atmosphere, ancient architectures and sensational Sichuan cuisine. Visit the Panda Breeding & Research Center where monumental strides have been made toward the conservation of the endangered Giant Panda species since its inception in 1987 when six of these gentle giants were rescued from the wild. Today, you'll have a chance to observe roughly one hundred of these amazing animals that were once at the brink of extinction. And awarded the City of Gastronomy by UNESCO, Chengdu is home to a plethora of culinary delights – so be sure to bring your appetite for some tantalizing Sichuan cuisine!
Last but not least, we conclude our China trip with some R&R and excitement in Shanghai, China's flagship city that showcases the country's trendiest fashion, finest cuisine, latest technological marvels and a skyline that is out of this world.
Yangtze River Cruise with shore excursions daily

Great Wall at Mutianyu with cable car ride

Tour of Beijing's Old Quarters (Hutongs) by Rickshaw
Evening "Legends of Kung Fu" Show

Visit to Terracotta Army excavation site

Dinner & Cultural Show at Tang Dynasty Theatre

Tour of Chengdu's Panda Research & Breeding Center

Extensive tour of Huanglong and Jiuzhaigou Scenic Area

Evening Shanghai Acrobatics Performance
Price Starting From: $8,075
---
---
---
---
TESTIMONIALS
"My daughter, grand-daughter and I had a great trip to China! The hotels were first-rate, tour guides and drivers were on time, knowledgeable and courteous. I would recommend the tour to anyone, especially some traveling with a child."
Jean Boghossian - Maryland