A Private China Tour – Beijing, Xian, Lijiang, Chengdu, Guilin, Shanghai
16 Days / 14 Nights – Tour Code (CSP)
Daily departure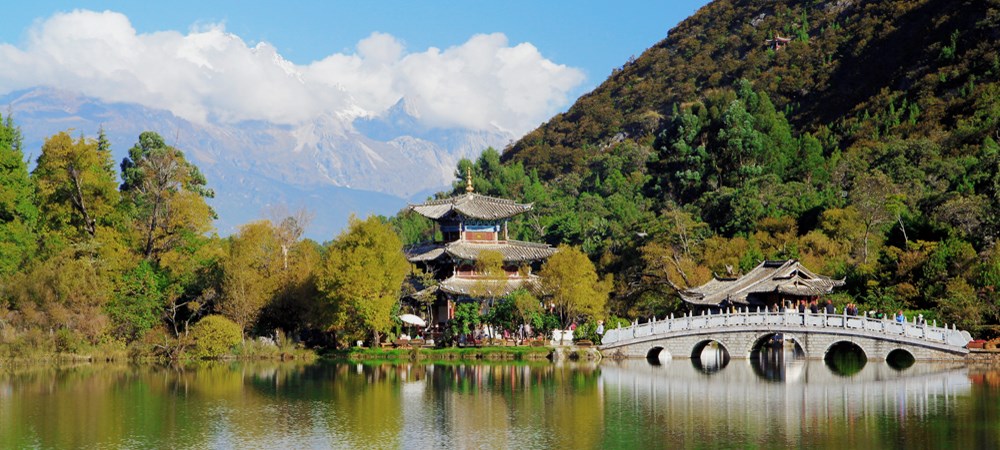 This meticulously crafted itinerary is specially designed for the nature lover, boasting an enchanting journey to several of China's most beautiful destinations.
Your introduction to China begins with two of its greatest ancient capitals, where you'll experience first-hand China's storied past, legendary landmarks and national treasures. Stroll the massive grounds of the awe-inspiring Forbidden City. Trace the footsteps of mankind atop the magnificent Great Wall. Marvel the incredible Terracotta Army that laid beneath the earth for over two thousand years. Admire the intricate architectural masterpiece of Beijing's Temple of Heaven formerly privy only to the Great Emperor himself. Beijing and Xian never cease to amaze the visitor.
Then, journey southwest bound and touchdown in one of China's most scenic and cultural towns — Lijiang, a UNESCO World Heritage Site and an ancient city in Yunnan Province hidden amid towering mountain ranges built in the Song and early Yuan Dynasties. Revered by locals and foreigners alike for centuries, Lijiang comprises of a labyrinth of cobbled streets and tiny alleyways beautifully complemented by tranquil, Koi-filled waterways, peaceful willow trees, and vibrant red lanterns. Lined with small shops, restaurants and local residences, you will find exploring the Old City a relaxing yet, fascinating experience like nowhere else on Earth. Climb (by cable car) the breathtaking Yulong Snow Mountain, visit a mountain top Tibetan Monastery, and take a stroll through one of the many rural Naxi Minority Tribal villages in the region. Lijiang delights the visitor in just about every way.
Next proceed to Chengdu, renowned for its Panda Research & Breeding Center where significant strides have been made toward the conservation of the endangered Giant Panda species since its inception in 1987 when six of these gentle giants were rescued from the wild. Today, there are roughly 100 Giant Pandas where visitors are rewarded by a glimpse of the day in a life of these amazing animals that were once at the brink of extinction. We visit the spectacular Mt. Qincheng known for its Taoist Temples and the Dujiang Weir, the world's oldest and still operational irrigation system built over 2,300 years ago. Awarded the City of Gastronomy by UNESCO, Chengdu is home to a plethora of culinary delights – so be sure to bring your appetite for some tantilizing Sichuan cuisine!
Continue our journey southward for Guilin. There will be nothing short of bewilderment as your flight makes its final descend upon this mystical land called Guilin. Its stunning landscape of karst mountains and tranquil rivers has for centuries mesmerized poets, artists and visitors alike from around the globe. Here, embark on a riverboat journey along the majestic Li River. Explore the beautiful countryside by bicycle amid lush rice paddies, quaint villages and free roaming water-buffalos. Trek the spectacular Moon Hill and treat yourself to a spectacular panorama of Mother Nature at her finest. After a couple of days of total relaxation, we end this incredible trip in Shanghai, a World City of glam & sophistication, fantastic shopping and a futuristic skyline that has the world at your fingertips.
From ancient landmarks to beautiful natural sceneries, from bustling metropolises to tranquil countrysides — they're all here. Get ready for your trip of a lifetime!
Great Wall at Mutianyu with cable car ride

Hutong Tour by rickshaw with visit to a local family's residence

Tour of Xian's remarkable Terracotta Museum

Excursion to the Yulong (Jade Dragon) Snow Mountain with visit to a typical Tibetan Monastery

Full Day boat cruise on the picturesque Li River

Tour of Chengdu's Panda Research & Breeding Center
Price Starting From: $6,815
---
---
---
---

TESTIMONIALS
"Your agency created a marvelous trip for us….It is so good to know that your agency will arrange the perfect trip when the time comes….Thank you for your integrity and compassion"
J. Sandra Lashway - Massachusetts